History
Georadis s.r.o. was established in 2006, and introduced its first product in December of the same year. In January 2012, the Company moved to new modern premises. After the first two winters spent in the new building, we enjoyed the spring of 2014 surrounded by beds of tulips. This year, we are launching three new products on the market.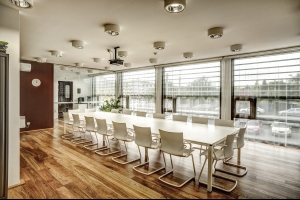 Although Georadis s.r.o. is a relatively young company, it has benefited from the best background. The Company's history cannot be separated from the biographies of the people who contributed to its establishment and represent its real value. Already in the late sixties of the last century, our colleagues conducted basic research of methods from which the Company has been profiting since. The first products in these early days were quite primitive, but managed to yield maximum return considering the level of technology at that time. The supply of new technologies, which mainly brings about the possibility of miniaturizing devices and components and improving user comfort, is ensured by a new generation of researchers The Company thus avoids technological stagnation.
The nineties were filled with work for the Canadian company Exploranium Ltd. At this time, there was a significant extension in the areas of ​​interest. An originally geophysically-oriented team was transformed into a group dealing with radiation monitoring issues in the industry, mainly in the scrap metal industry and construction industry.
A milestone came in 2001, along with expansion of the customer base. The worldwide hunt for terrorists and efforts to prevent terrorist attacks defined new requirements for appropriate detection instrumentation. The research group was expanded, and was subsequently acquired by a huge American multinational company. Management of small research teams focusing on unique technologies by large companies is always very expensive, and thus an agreement on the separation of the research group was made in 2006, followed by the establishment of a new entity, Georadis s.r.o.
The new company made use of the knowledge and experience from previous years and built upon it, but had to rebuild its product portfolio completely. The efforts started immediately, and already in the spring of 2007 a new gamma-ray spectrometer was introduced, just in time to catch the wave of extreme interest in searching for new sources of uranium. The years of 2007 to 2009 provided financial resources to stabilize the young company.
Innovation and new challenges. This is the primary catalyst for the Company's growth. Every year we have managed to introduce two new devices to the world. The quantity of manufactured products and the number of our customers urges us to continue this trend, and be a part of it.