D230A
D230A is a small and lightweight gamma ray spectrometer. Designed specially for UAV and drones applications.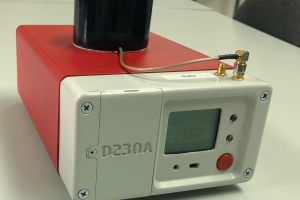 Properties
Versatile, up to two independent detectors with independent full digital spectrometers. Types, sizes of detectors and combinations are selectable. OFF and ON Line mode.
Use
Security, Environment, Health protection and Exploration.
Designed with respect to maximise volume and sensitivity of detectors. Versatile open concept to optimise performance and payload. Spectra and Dose rate measureemmnts of up to two independent spectrometers are acquired on internal memory and eventually broadcasted in real time via radiomodem. Extendable for laser distance meter. Low consumption and small Li-Ion battery for about 6 operation hours. Dosimetric mode with standard size of NaI/Tl detectors. Full energy compensation. Continuous gain - temperature correction (stabilisation).