GT-40
A multifunctional gamma ray spectrometer for rapid determination of activities of gamma emitters in field surveys or samplings. A wide range of applications in the field of monitoring heterogeneous substances, contamination of sites, buildings, objects, water and food. Application in geology in field surveys for raw material sources. Proven performance in harsh environment applications. Survey data is stored in the memory, including the GPS coordinates. Up to 6 different calibrations.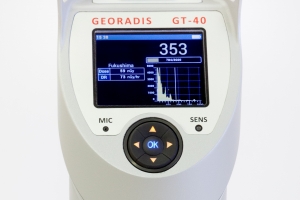 Properties
Portable digital gamma ray spectrometer with a built-in computer for complex analysis of the measured data. Bluetooth, Wi-Fi and GPS are an added advantage. Transreflective colour display.
Use
Applicable wherever it is necessary to quickly and accurately determine the activities/content of gamma emitters. Suitable for field survey measurements, but also to be incorporated into shielding as
Modification
The GT-40 series is provided with a NaI/Tl scintillator with a 3" base diameter and 3" height. A GT-40S model is also manufactured, which is fitted with either a NaI/Tl or BGO detector with a 2" base diameter and 2" height at the customer's request. The GT-40S model has a built-in 1 cm thick Pb collimator. The collimator is easilyremovable.
Specification
Two basic working modes: Survey, for terrain scanning, and Assay, for determining concentrations of precalibrated radionuclides, i.e. components. Energy calibration of the analyzer is carried out continuously throughout the operating time, and only natural background sources are used for the set-up. Monitoring and analysis results are displayed on a color graphic display in a well-arranged manner. All acquired data is stored in the unit's memory and can be exported to other devices via USB, Wi-Fi or Bluetooth. Field observations can be recorded and stored along with each measurement using a built-in voice recorder.
Alternatives - Options - Special applications
Alternative models for special applications have been designed. GT-40-B profits of BGO detector 3" base diameter and 3" height. GT-40 - L is a model with extended length of body for scanning of small spots on earth surface. *NEW* support for high precision external GPS, build in calibration and protocol for fast core logging.