RT-20
The smallest representative of hand held scintillators. Suitable for rapid localization and tracking of radiation sources. Easy to operate. Low power consumption.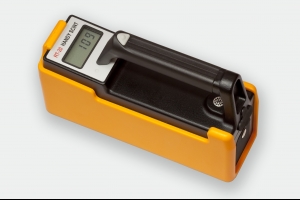 Properties
A clear and easy-to-read display and audible indication of changes in radiation levels make RT-20 suitable for routine work when locating sources of radiation. The unit is also available with an exten
Use
RT-20 is designed primarily for work in areas where the probability of occurrence of significant radiation sources is high and they can be difficult to access. Typically, in metal scrap and other wast
Thanks to its low weight, it is easily portable even in rugged conditions. The dimensions of the device have been minimized, but not at the expense of sensitivity. A NaI / Tl crystal of 1.18 " diameter and 1.18" length and the gamma-ray energy range from 30 keV ensures sufficient sensitivity of the unit even for radiation sources contained in massive shielding or transport containers. Its housing is made of aluminum alloy. Powered by four AA cells. Alkaline and rechargeable cells are also acceptable. A charge controller is located inside the unit.
RT-20T is an identical device, wherein, however, the detector is located at the end of a telescopic arm in its own housing. The housing enclosure is protected against scratches and bumps with a plastic finish on the outside and foam lining on the inside.