RT-21
RT-21 is the most sensitive of numerous manufactured hand-held radiation detectors. Its robust design allows it to operate even in the most demanding climatic conditions. Our bestseller at the time of the uranium panic. Popular with scrap yard owners.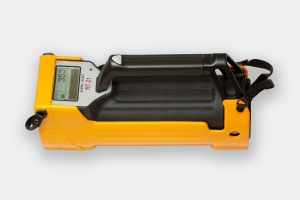 Properties
Excellent sensitivity thanks to a large detection crystal. Suitable for harsh environments. Water, dust and shock resistant. Long battery life. Immediately ready for operation.
Use
Scanning for radioactive materials in waste or metal scrap. Suitable for contamination monitoring in plants processing radioactive materials. Often used by geologists in search of uranium resources.
The only detector with a NaI/Tl scintillation crystal with a capacity of 104 cm3 weighing less than 3 kg. Its housing is made of aluminum alloy coated with a polyurethane layer. This protects the device from wear and tear and allows for easy decontamination. The presence of radioactive substances is indicated on a graphic display, and by a piezoacoustic transducer generating alarm signals. Dust and water resistant. Easy one-button operation. Low power consumption and long battery life. Rechargeable AA batteries can be used. The charger is integrated in the device. An AC adaptor is supplied for charging/powering from the mains, and the unit may be powered from a 12V car socket. 
The RT-21 series is also available with a telescopic arm. At a customer's request, an RT-21B model is available fitted with a BGO detector instead of a NaI-Tl detector.