RT-30
A handheld gamma ray spectrometer with integrated dose meter and neutron identification. High sensitivity, long operating time and high durability in field conditions. Quick scanning for radioactive materials and reliable identification of radioisotopes. Protection of personnel against the effects of ionizing radiation.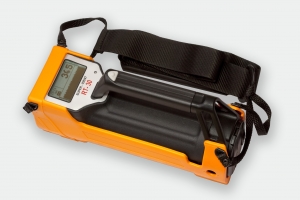 Properties
Devices from the RT-30 series are multi-purpose gamma ray spectrometers with added functions for detecting radiation sources, measuring dose rate and identifying neutrons. They are resistant to water
Use
Low weight and high mechanical resistance makes them perfect for outdoor use in industrial applications, personal protection, tracking illegal movement of radioactive sources and searching for lost ra
Modification
The basic model of the RT-30 series is built on a large volume NaI / Tl scintillation detector with a 2" base diameter and 2" height. This ensures the scintillometer's function of determining the location of radioactive materials, identifying radionuclides from the recorded gamma spectra and dose rate within a limited range. The RT-30G model is fitted with the Geiger-Muller tube, thus extending the dose rate meter range up to 1Sv/h. The RT-30N model is equipped with a neutron detector as an addition. This device meets all requirements to be classified as RIID. All three models are provided with a detector mounted on a telescopic arm to ensure sufficient distance of the operator from the radiation source. This includes RT-30T, RT-30GT and RT-30NT models.
Specification
Two basic working modes: Survey, for radiation surveying, and Identification, for identifying the detected sources. The Survey mode is combined with simultaneous dose rate measurements. The RT-30N model is provided with continuous detection of neutrons with the function running the whole time the unit is turned on. Energy calibration of the analyzer is carried out continuously throughout the operating time, and only natural background sources are used for the set-up. Monitoring and analysis results are displayed on a graphic display in a well-arranged manner. All acquired data is stored in the unit's memory and can be exported to other devices via USB or Bluetooth.